Cher always did have a way with words, didn't she?
When someone says something to you, without thinking it through… it can hurt, cut, break you down… The saddest thing is, most of those people don't even realize what they have done… I mean, they must not… because if they did it, knowing full well what they were saying was going to hurt you, or upset you enough to cause a reaction, or a lasting effect… and they did it anyway, well… that would make them as heartless as their words… right?
Well… that is just sad.
This post was more for me, than any one single individual so, don't be sitting there asking yourself, "Is she talking about ME?"… because, if you really have to ask yourself that, to me, it says that you are feeling guilty about something, and maybe you should rectify that before it eats away at you.
All info below, with a note on the shoes… I hope that you enjoyed this post.
I don't know if there will be many videos until I can get the headset sorted. So that means no in-depth posts until it's fixed. Sorry.
Upclose snap of shoes.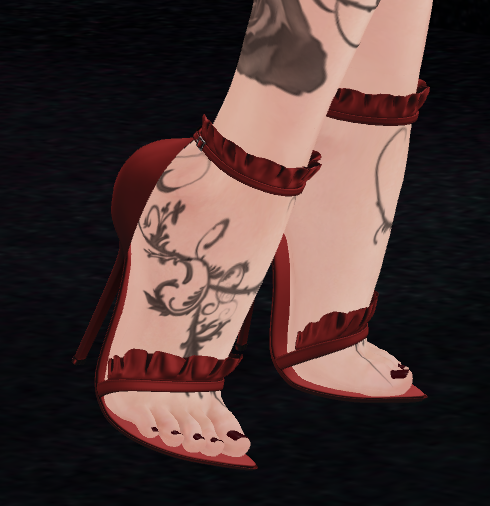 ♥
Descriptions are always as follows
Item/URL | Product Name | Event | Month
I do my best to always credit everything in my photos.
No matter the length of my posts, I always include the above explanation in my styling area.
I hope that you have enjoyed this post!
Please click the photo to see it in larger sizes.
♥
Styling
Body
Shape | So Hawt SL – Shapes | PSY(CH) (Catwa) | New Release
Body | Maitreya | Body – Lara V4.1
Head | CATWA | Catya 3.2 | New Release
Makeup | Pink Fuel | Runny Mascara Tears
Hair | *dafnis | fat pack hair Maria
Ears | Swallow | Noldor Elf Ears | Kustom9 | March 2018
Eyes | Avi-Glam | Vivid | Coal
Skin | Mudskin | Satoko – 7| Neo Japan | April 2018
Tattoo | -Endless Pain Tattoos- | Beautiful Thorns | We<3RP April 2018
Clothing
Outfit | Tragic . | London – Cake or Death | New Release
Shoes | Apple May Designs | Ruffles Heels | The Clique Event | until April 4th, 2018
Note: Closeup of shoes, click here.
Accessories
Necklace | MURRAY | Charmed Velvet Choker
Umbrella | Kraftwork |  Tapbrella | Fameshed | April 2018
Poses/Decor
Poses | Zombie Suicide | love me | Anybody | March 2018
Decor | VARONIS | StarDust Background | Neo Japan | April 2018