Hey folks! I am a tad late with this.
The problem with pillows and sickness is that they look so much more comfortable, than sitting at a pc, trying to breathe, lol.. oops.
I am within my time limit to blog this outfit however, I just took a look and the event ended yesterday. Now, I am sure that doesn't mean you cannot get this outfit now but, you will need to visit the main store!!
The outfit is from, Wicca's Wardrobe!
You need either the Maitreya or, Slink bodies to use it.
And there is a pretty interesting hud.
Click these links to see the snapshot of the hud.
Link one,  Link two
Please read below for all other info.
OH! BTW! Check out HairSL for all the hair stores having sales!
One more!! Nail close up!!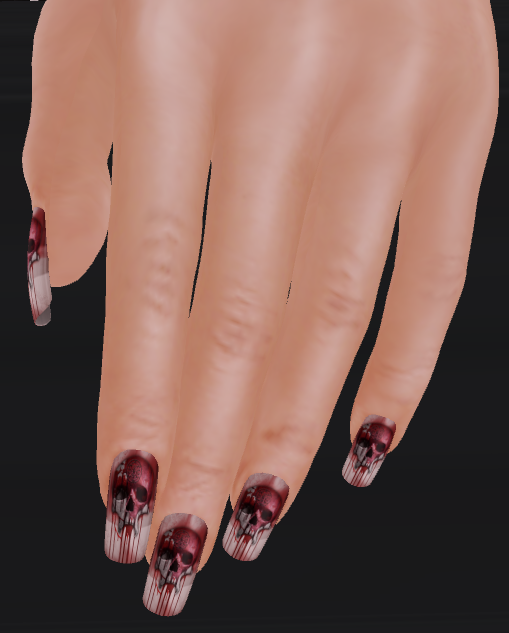 ♥
All product, event and designer info in styling area.
Descriptions are always as follows
Item/URL | Product Name | Event | Month
I do my best to always credit everything in my photos.
No matter the length of my posts, I always include the above explanation in my styling area.
I hope that you have enjoyed this post!
♥
Styling
Body
Shape | So Hawt SL – Shapes | Flossy | Coming Soon
Head | CATWA | Lona | New Release
Eyes | Avi-Glam | Luster Eyes | INDUSTRIE Event |  November 2017
Nail Polish | Necromancer | Blood Magic | The Coven | November 2017
Hair | TRUTH | Cinnamon – Selection
– Black Friday Sale happening now!!! Nov. 25th – 28th 2017
Ears | Swallow | Elf – High Definition
Tattoo | .Facade. | Euphoria | -DISTRICT23- | November 2017
Clothing
Top | Wicca's Wardrobe | Silvana
Accessories
Necklace | .::Supernatural::. | Jenna Collar Black | Cosmopolitan | November 2017
Earrings | Zombie Suicide |  Boned | The Coven | November 2017
Pose/Prop
Poses/Prop | -CLICK- | Grunge Alley