It has been an amazing few days!
I reached a goal on flickr I did not even realize I wanted!
Over 99 favs on a photo!
Seems so silly but, I have been on flickr for so long, and people just tend to go there, and click my blog link.
Even if they like the photo, they forget to click like..
And I totally get that, your in a hurry..
It just feels awesome to know that my photos are appreciated.
So, for anyone that got me that far, THANK YOU!
I finally got the silly viewer to work.. had to reinstall, uninstall…reinstall..
Kaoz, you better believe that I believe in you because, I am using the OFFICIAL Second Life viewer to show off your head. lol.
Here is a video.. I am going to say again, that I do not use MY shape in this.. I felt extremely awkward lol. As you will see.
PS: lol, the outfit and hair are a part of Epiphany, and is CALLED Lazy Sunday.. lol.. oops.
Trust me, I cover everything.. I just lost my train of thought, and well.. like I said, lol. I do cover everything!!
As promised, here is what I meant by clicking my avatar does not reset the camera!!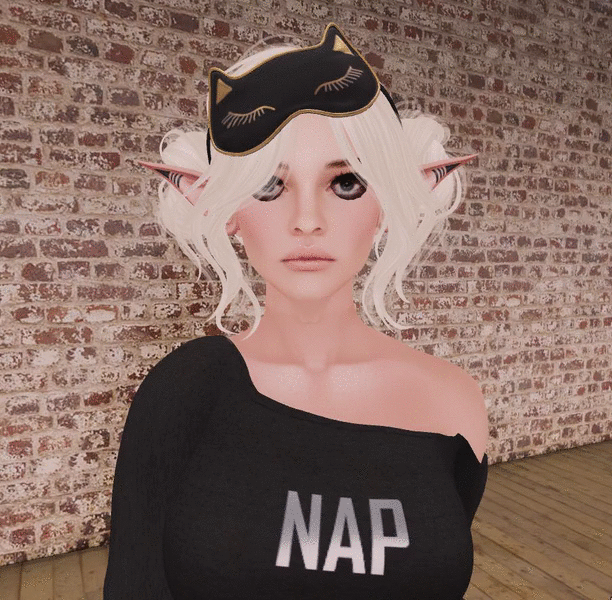 I finally came out of my shell, and chatted with people in a group that my mom belongs too..
Now, don't over think this.. My mom is an adult actress in sl, so you can imagine, the group..
The Sexiest : Pornstars!  hehehe
Anyway, I like looking at photos, and seeing how everyone sees their bodies..
Being "ashamed" of your sl body is like.. not drinking water because it may make you look fat!
So, I met some really awesome people..
We all shared photos from flickr.. some nude, some not.
And, if you are closed minded, you may think that the only chat in a group like that, is overly sexual in content.. however,
it's really not. There was no sexual chat at all apart from, a few joking flirts thrown about, and some really funny quips.
I have noticed that they really like their parties..
I have yet to go to one of those.. I think.. oh, nope, I have actually.. When my mom was DJing.
And, I have to tell you.. they were not safe from my pixel camera!!
Yeah, I know.. I am SL's unofficial Paparazzi!
Anyway, I know that was random but, I wanted to share this awesome group with you all.
Plus, if you are looking for models for a photo.. risque or, PG.. I am sure you could find a willing participant there!
And now for all your info!
♥
♥
♥
All product, event and designer info in styling area.
Descriptions are always as follows
Item/URL | Product Name | Designer Name | Event | Month
I do my best to always credit everything in my photos.
No matter the length of my posts, I always include the above explanation in my styling area.
I hope that you have enjoyed this post!
I blogged random things that I liked over the past month…. or so.. lol
Have a great day, and happy shopping!!
♥
Styling  ~ Morgana
Body
Shape | So Hawt SL – Shapes |  Storm | Morgana Hilra | New Release
Hair | TRUTH HAIR |  Lazy Sunday | Truth Hawks | Epiphany | October | 2016
Note – All clothing is also a part of this gacha.
Eyes | Catwa | Mesh Eyes /Tears| Catwa Clip | New Release
Eye Applier | .::WoW Skins::. | Natasha | sawsan SecretSpy
Head/Skin/Shape | Akeruka |  Elen – Bento | Kaoz Koba | new Release
Body | Maitreya | Mesh Body Lara | onyx leshelle
Pose
Pose  |  (marukin) | [hane]  | valencia.southard
Build
Loft | Studio Skye | Skye Warehouse | Alex Bader